Inter win Serie A after 11 years.
Milan city belongs to Inter.After a long wait ,but fans of Inter know to wait the right moment…that moment has come.Blu and black colors filled Piazza Duomo today to celebrate the 19-th title of Serie A .Title that came after Atanlanta's draw against Sassuolo.A title won through commitment,desire and a good play.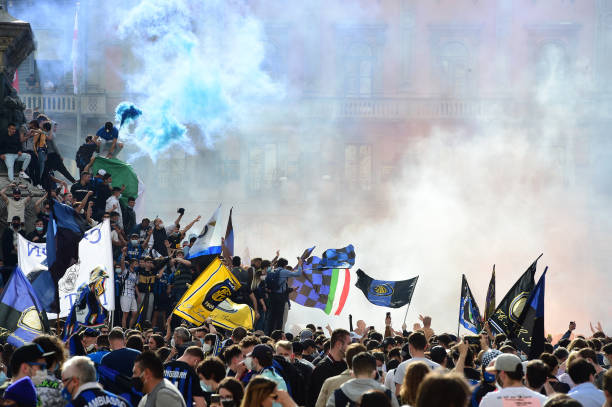 It needed a ex Juve coach as Antonio Conte to bring victory to Inter.Joy that was not felt in these enviroments since 2011 ,when Inter won the coppa Italia in the final against Palermo.Many things changed since then.Inter was making cheap deals with players that secured them fifth,sixth and seven places in championship.
In 2017 something changed as the coach in that time Spalleti managed to qualify them for Champions League.That was the turning point.Inspite not succesful campaigns in europe even this year ,where Inter was the last in his Uefa Champions League group.Althogh they were exellent in championship especially in the second part of the season dropping only some points.
Decisive match was the derby with city rivals Milan.Match was for the first place and Inter smashed the rivals 3-0 to go 4 points ahead of them.
This tile comes in the era of changes for Inter.The leading board comfirmed themselves as the majority action holders,to silence rumors that predict them selling the club.Inter will change sponsor.Pirrelli won't be anymore in their jersey after so many years.The club will change the logo also.This comes with the Serie A trophy.Many fans expected,many were sceptical after the loss against Milan in the first part of the season.Now they are facing a new reality the reality of scudetto.
Club annouced a hashtag this afternoon ,I'm scudetto,for its fans and many changed their socila network profile with this phrase.Now all in the Inter club will expect summer to see and improve their level and to be competitive again in Europe.